Our Blog
New "Super Silencer" – Mandibular Repositioning Device for Obstructive Sleep Apnea
May 6th, 2022 | Posted in:
Dr. Halstrom News
,
Education Centre
,
silencer-news
,
Uncategorized
The "Super Silencer" is a specialty device recently developed with Mr. Loris Campagnolo of Shanto Dental. It is an effective, comfortable and durable appliance even for a patient who illustrated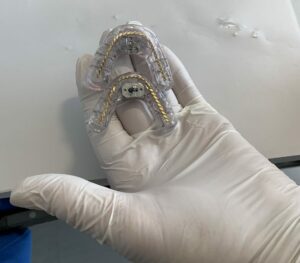 a Herculean Bruxing ability to crush and destroy all previous versions. An all acrylic design provided great retention for the patient's short tooth anatomy.  We used a heavy duty model of our Halstrom Hinge along with reinforcing and clasps.